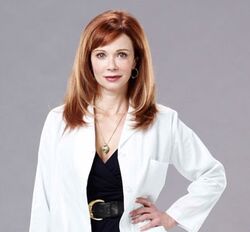 Dr. Betty Rogers is the lead Medical Examiner and one of Angela Flynn's co-workers/best friend. She's also a cougar who's convinced that her best years lie in front of her.
Frustrated and disillusioned by a medical establishment filled with pill-pushers and funded by pharmaceutical conglomerates, Betty decided to focus her talents where they could do the most good… with the dead. To her, people are never more interesting than after they've died. That's when they're truly vulnerable, when all their secrets are laid bare under her scalpel. As medical examiner, her quirky sense of humour and overall bluntness are assets. And as far as dealing with the living goes, she maintains close relationships with the rest of the team.
A smart and observant listener, and never one to judge, her opinions are respected and valued by everyone. Betty is a true ally in Angie's corner. She's been around long enough to know that Angie is the real deal. However, that doesn't mean that she doesn't worry when Angie gets in over her head or infuriates the top brass. Dr. Betty's many years of experience have taught her that not all criminals are on the outside. Some of the worst offenders are walking around with a badge.